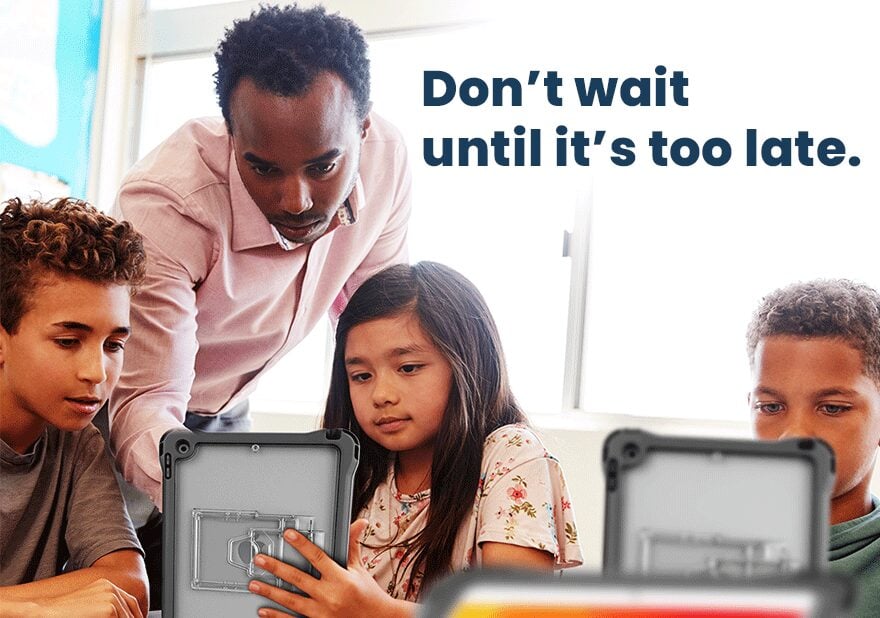 The Emergency Connectivity Fund (ECF) is a recent initiative by the Federal Communications Commission (FCC) aimed at providing funding to schools and libraries for the purchase of devices and internet connectivity to enable remote learning during the COVID-19 pandemic. The fund has an allocation of $7.17 billion, and schools can use this money to purchase devices, internet connectivity, and related equipment like protective cases. Though ECF is a recent initiative, it is soon ending. Take full advantage of your ECF dollars to support e-learning.
Protective cases may seem like a small expenditure compared to the other vital components of remote learning, but they are essential in ensuring that devices last long and are not damaged during use in school or at home. Here are some reasons why schools should prioritize purchasing protective cases using the ECF.
Protection: iPad or MacBook devices are fragile and prone to damage. Protective cases provide a layer of protection against drops, bumps, scratches, spills, and other accidents that may occur during use. This ensures that the devices last longer and do not need frequent repairs or screen replacements.
Hygiene: The health of students, teachers, and staff continues to be a top priority in schools, and hygiene is critical in preventing the spread of germs. Protective cases can be easily cleaned and disinfected, ensuring that devices remain safe for use by multiple students.
Cost-Effective: Protective cases are relatively inexpensive compared to the cost of the iPad and MacBook devices themselves. By purchasing cases using the ECF, schools can ensure that they get the most out of their funding allocation and do not incur additional costs for device repair or replacement.
Convenience: Protective cases come in different sizes and designs, making them easily customizable to suit the devices being used. This ensures that students and teachers can easily identify their devices and avoid confusion or mix-ups.
Ultimately, purchasing protective cases for iPad or MacBook devices using the ECF is a wise investment for schools. It ensures that devices last longer, remain hygienic, and are cost-effective. Schools should prioritize purchasing protective cases as part of their ECF expenditure to ensure that their 1:1 deployments and remote learning programs are successful and sustainable.
Couple your ECF funding of iPad or Macbook devices with protective cases from Brenthaven for a lifetime of protection. Click here to request a free sample or quote!