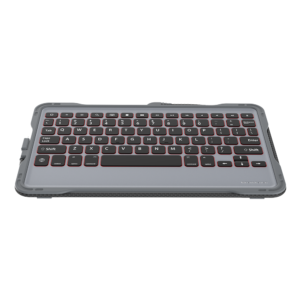 Brenthaven has been the leading provider K-12 cases for over 35 years supporting the K-12 EDU market since 2002. Creating rugged cases designed for every device, grade, and usage scenario, Brenthaven has a proven track record of designing and manufacturing premium cases for K-12. Now Brenthaven is taking on a new challenge of providing the best keyboard on the market for education.
Introducing the Edge™ Rugged Keyboard designed to work with all iPad models. It's loaded with K-12 friendly features including a tuck-away rugged MFI lightning cable with ruggedized lightning tip. Clear silicone covers and waterproofs the keyboard buttons and pad to help prevent prying and increase durability. TPE surrounds 360 degrees of the keyboard and reinforced Crumple Zone corner protection allow the Edge Rugged Keyboard to withstand drops of up to 6 feet. It has molded cable routing around the perimeter of the keyboard for cable management. The cable snaps into them easily and has rugged junction point where the cable comes out of the keyboard, so the keyboard is protected against damage from every angle.
It weighs just under a pound and is compact (10.35" W x 0.65" H x 6.6" D) making it easy to carry around for students and teachers walking from classroom to classroom. The Edge™ Rugged Keyboard is completely waterproof and built with a ruggedized lightning tip that is made to last in every classroom usage scenario.
Brenthaven stands behind all our keyboards with a one-year guarantee against damage, the best keyboard warranty in the industry.
The Edge Rugged Keyboard will be available to purchase starting in January 2019. Samples can be reserved now!