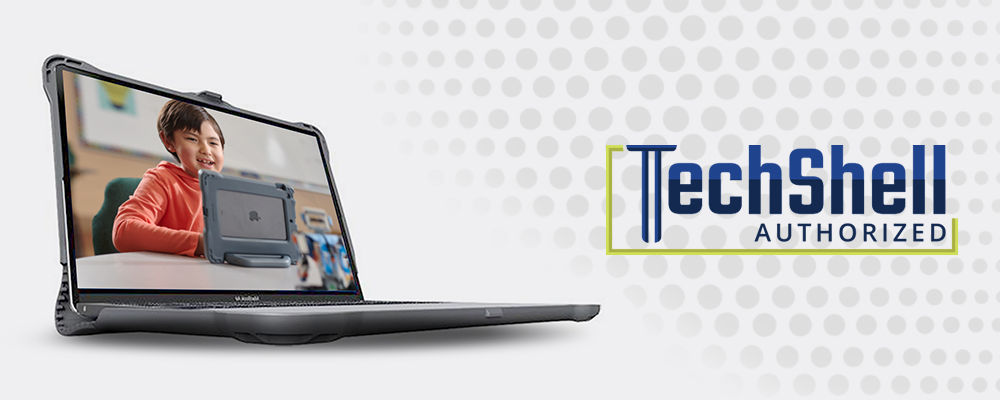 We all know that feeling of watching an expensive laptop or iPad drop to the ground. Our heart sinks and we hold our breath. In that moment, every one of us instantly hopes that the device is ok and survives the fall, but "hope" should not be what your technology investment comes down to. That moment is the wrong time to wonder if the protective case you purchased will do its job. The right time to consider the all-important questions is now; when you are researching new devices and cases.
Kids are hard on everything they touch- it's just their nature. That is why at Brenthaven, we knew we had to go beyond typical specs to ensure our cases were rugged enough for the most rough and tumble students. We take device protection seriously, so design our cases with innovative technology we 100% know will keep your tablet or laptop safe in those precarious moments.
One of the key design elements we incorporate into our case designs is TechShell. What is TechShell and how does it help keep your device secure? We're glad you asked.
What is TechShell?
At its core, TechShell is an independent, standardized testing certification for technology cases. Unique in the industry, TechShell Certification is the only entity that has created specific benchmarks for cases to meet in order to be granted certification. While many companies boast about meeting military specifications, there are actually no standards to meet in order to use the label "meets MIL-STD 810." It's worth repeating: when it comes to protective cases, the term military specifications have no true meaning, standards or guarantees. It's just a term that sounds tough. We saw how that was a subjective label to utilize and knew we needed better for Brenthaven's cases.
TechShell Tests
When a case is TechShell certified it means it has gone through a series of standardized tests. TechShell testing includes rigorous Drop Testing, Sharp and Edge Point Testing, Temperature Condition Cycling Testing, as well as being compliant with the California Prop 65 Testing. TechShell is also committed to being open about its testing process, including having testing reports available upon request. Any case with a TechShell badge on it, certifies that case passed these strict testing requirements.
TechShell Standard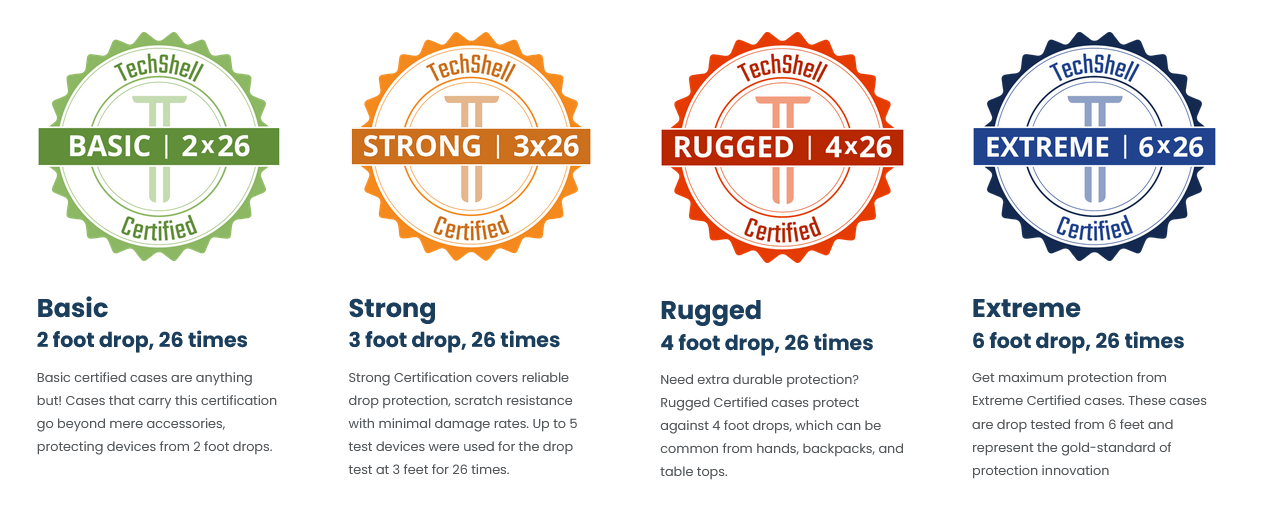 TechShell Certification currently comes in four distinct levels depending on drop test height. Referring to the above graphic, you'll see the Basic Certification is tested at two feet, Strong at three feet, Rugged at four feet, and Extreme Certification at six feet. All are dropped 26 times.
Additionally, TechShell Certification also includes Sharp and Edge Point Testing, a standard test within the toy industry. Children will be using our cases and having that peace of mind that they were tested with kids in mind is valuable. You'll also see TechShell ensures the case is tested to withstand extreme temperatures, accounting for kids accidentally leaving their tech on heaters or in the car in the dead of winter; the tech might be in trouble, but your case should be warp-free.
TechShell is also compliant with CA Prop 65, ensuring that all the materials used for protective cases desist from the list of chemicals known to cause cancer, congenital disabilities, or other reproductive harm, in contrast to Mil-Spec.
Why Brenthaven and TechShell?
Brenthaven knows when you buy one of our cases, you want the best protection on the market. TechShell Certification on our products ensures that that protection has a standard that outweighs any mil-spec label. Our cases range to meet a multitude of needs and devices making them a great fit for any school environment. Backed by five patents, you can be confident that when you buy Brenthaven with TechShell Certification that your school will be protected by the best quality testing standards that are on the market because, in that moment of hoping your device will survive the fall, Brenthaven cases replace that uncertain feeling with knowing you bought a case that will deliver proven protection. In a time filled with uncertainties, having something to rely on is a worthwhile investment.