Top Three Reasons Edge Smart Connect is the Perfect iPad Keyboard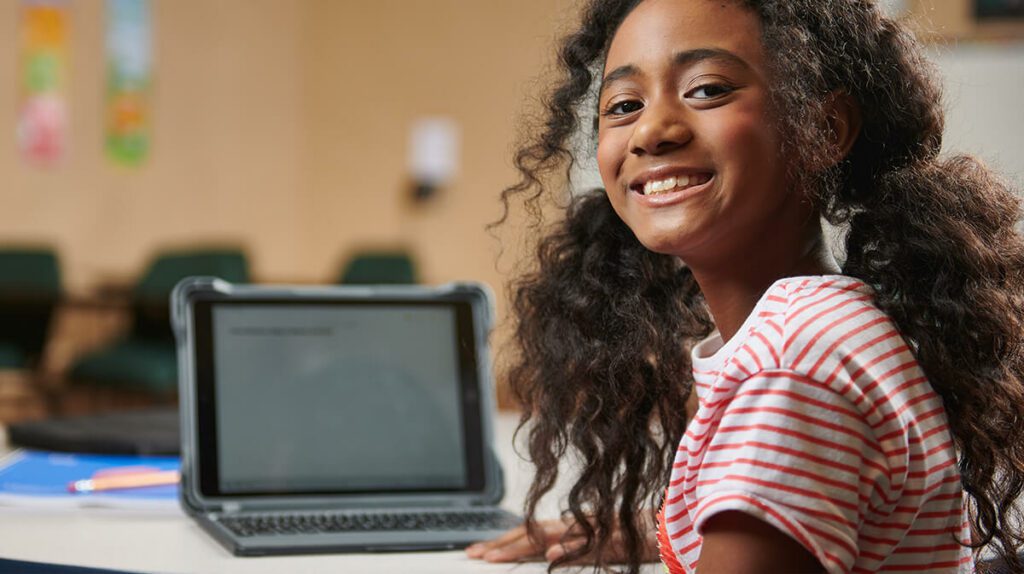 Searching for an iPad keyboard to add functionality to an already powerful device? Before you look at switching to a different tablet, consider an iPad keyboard and case combination! Here are our top three benefits of adding new life to your new or used iPad! 
iPad devices have been at the forefront of educational technology since tablets first came on the scene. Apple is one of the original tech leaders. From monstrous monitors with a rainbow apple to thin tablet tech in just a handful of years' time, who would have thought? Educators love iPad devices for their accessibility, the array of educational applications, and their easily navigable operating system. They can be used with young preschool-aged children all the way through 12th grade, seniors, making them a versatile, great investment for school districts. But what happens when students are at an age where they need to learn keyboarding skills, write paragraphs and essays, or need to complete a writing portion of an assessment?

You need a tactile keyboard, plain and simple. At Brenthaven we wanted to be able to offer a keyboard that matches the top-quality construction and ruggedness of our cases. This is where the Edge Smart Connect Keyboard for iPad devices become your new best friend. Why this specific keyboard, you may ask? Let's dive in.
#
1: Student-Proof Ruggedness
In the classroom, accidents happen, and we need the highest quality protection for our tech, our keyboards are no exception. The Edge Smart Connect Keyboard was made specifically for the K-12 learning environment. With TechShell certification, you can rest assured that your keyboard has been drop-tested 26 times at a height of six feet, with functionality intact. It's been temperature tested and is spill-proof, passing IPX4 water-resistant testing. Additionally, the case has a breakproof kickstand with 3 positions for the best viewing angle and typing experience. When speaking with teachers we realized key picking is also a major issue with keyboards, so we made sure to integrate pry-resistant keys too. Edge Smart Connect Keyboard is prepared to handle any mishaps that may come its way.
#
2: Ease of Use for All Ages
The Edge Smart Connect Keyboard is the ultimate in versatility. The keyboard easily attaches and detaches with a magnetic connector or permanently locks preventing it from being lost or forgotten. Additionally, charging is a piece of cake, as it charges through the iPad, meaning you never have to worry about a dead keyboard if your iPad is charged! Unlike Bluetooth keyboards, Smart Connect means there is an instant connection, so there are no worries about annoying pairing sequences. From iPad to laptop in mere seconds with a process so easy that any student could do it.
#
3: It's More Than a Case; It's More Than a Keyboard
When you decide the Edge Smart Connect is for you, you get so much more than just a keyboard. A particular benefit is when you buy through Apple, there is a lifetime warranty on the product. You do not have time to worry about breaks- which is why we have such a rugged design, but you deserve peace of mind, just in case. The iPad case has a backing that is clear in order to ease the asset tagging and management process too. Additionally, a great feature is the integrated Apple Pencil holder –available at no additional cost allowing for built-in Apple Pencil charging. When you buy Brenthaven, you get more than what meets the eye.
Edge Smart Connect Keyboard: The Best Case + Keyboard Investment
Whether you have primary children being introduced to keyboards for the first time or have seniors applying for their future paths, districts need to be confident in their device and protection investments. The Edge Smart Connect grows with students and helps protect devices from all the bumps and growing pains along the way. What is even more worthwhile is knowing you are providing a true 21st -century classroom experience helping students develop traditional keyboarding skills alongside modern-day touch screen technology. When you account for the rich educational opportunities the iPad provides, you're getting the best in enrichment, ruggedness, and versatility when you purchase the Edge Smart Connect Keyboards for your schools.
To learn more about the Edge Smart Connect Keyboard, visit our product page or click here to connect with our Technology Experts to request a quote for your schools or a free sample to test out all the benefits this case + keyboard offers.