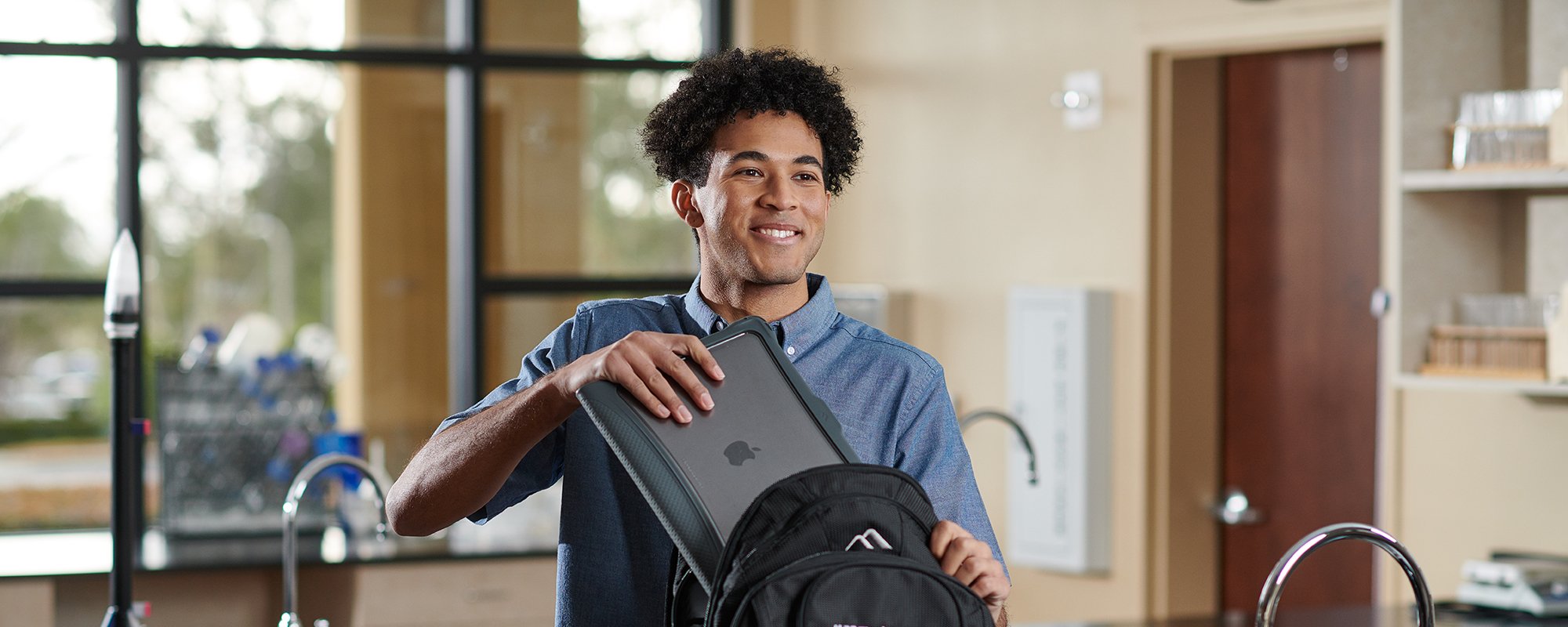 Choosing devices for the K-12 classroom means more than picking the right tech. ITDMs need to consider the larger EdTech ecosystem the devices will operate in. From budget to use cases, a variety of factors inform picking the path forward for a school or district.
Big Reputations
One need only look around at the number of iPhones they see in use on the sidewalk to know that Apple is a major power player in the tech industry. Even young children can operate iPads with ease, so it's plain to see why they are such popular devices! Whether schools choose the iPad Air, iPad Pro, or MacBook, they can be assured they are getting a device that's powerful and cutting-edge. Apple has also built a reputation for creativity, with an AR platform, multiple apps, a powerful camera, and accessories like the Apple Pencil all supporting artistic pursuits. Plus, thanks to sleek engineering and a well-rounded operating system, Apple products are known for premium quality.
Chromebooks, another very popular EdTech option, have many qualities that are also attractive to ITDMs, including affordability and a large range of device options. While some models might be fairly basic, they are also highly functional for everyday academic work. Thanks to a built-in keyboard, Chromebooks are often seen as a lower-cost laptop replacement, though that assumption could be challenged in the coming years with affordable options like the Microsoft Surface Laptop SE hitting the EdTech market.
The Ecosystem
Choosing a brand for your deployment means buying into their classroom ecosystem. For Apple, that means using their Classroom and Schoolwork apps, which allow teachers to, amongst other things, control every device in the room, assign and monitor homework, and give feedback. Built-in programs like Pages, Numbers and Keynote are great for student assignments. Additionally, the App Store has an endless supply of apps for teachers to try with their students.
Elsewhere, Google has a robust learning suite called Google Classroom. Many are already familiar with Gmail, but this gives students access to software like Google Docs, Google Sheets, Google Slides and others. Microsoft also offers a learning ecosystem that operates via Microsoft Teams. Teachers can make use of programs like Immersive Reader and Education Insights to help students learn.
Selecting a system is a big decision – and juggling multiple platforms is likely to give your IT department major headaches. Evaluate your student population and reach out to teachers and students to get their feedback on which learning environment works best for them.
The iPad Advantage
iPads, even older models like the iPad 5th/6th Gen and iPad 7th Gen, have impressive longevity. As long as Apple supports the device with iOS updates, they will continue to run smoothly for years. For schools, getting as many school years as possible out of a device is key – which is why having a durable iPad case that protects against drops and damage is so important!
Another point in the iPad column is the general familiarity with the Apple iOS. As mentioned, many people already have iPhones, and even young children are likely comfortable with their parent's phone. This comfort can be a huge time savings in the classroom, allowing teachers to spend more time on academic subjects and less on tech support. Bradley Chambers of 9-5 Mac states, "One of the critical things the iPad brought for K–12 schools was the ease of use. Compared to traditional computing, iOS is dramatically easier to learn for users."
Size and weight are also important factors to consider. For children lugging backpacks to and from school, mobility is key. The iPad, iPad Pro and iPad Air are small, light, and easy to carry. Of course, all that commuting can make accidents more likely. That's why Brenthaven is committed to protection, perfected – with cases that are designed exclusively for Apple products.
Finally, while iPads don't come equipped with a keyboard, their ever-increasing processing power makes them as powerful as a laptop. Adding a keyboard or a keyboard case can easily replace a laptop for older students who need to write longer papers or do more complex research.
iPad vs. iPad Air vs iPad Pro
If an ITDM decides that Apple is the solution for their school or district, it's time to choose the right iPad. The iPad 9th Gen is priced at 299 for education, boasts an impressive 11+ hours of battery life and comes with 64 or 256 GBs of storage. Schools can add a Magic Keyboard or Apple Pencil to increase the range of uses for the tablet. And, at only 1.07lbs, it's easy for students of all ages to transport. For that reason, Brenthaven designs iPad cases to complement the design of the iPad, adding protection without unnecessary bulk or weight.
The iPad Air 4 and the iPad Pro (2021) both come with a bigger price tag but very powerful specs. As with the iPad 9th Gen, these devices weigh in at about a single pound with a battery life range of 10-13 hours. At the top of the line, the iPad Pro even comes with Apple's new M1 processor, the same one found in the MacBook laptop.
Long-term Loyalty
Ultimately, the decision comes down to personal preferences, budgets, and use cases. And as the old saying goes – nothing succeeds like success. If a device, and the accompanying educational apps, work well, ITDMs are likely to stay loyal to that brand. So, whether you choose Apple, Google, or Microsoft, consider factors beyond just the device to get the right fit for your school or district.
Protect Apple devices with tailor-made cases from Brenthaven. Brenthaven is an authorized Apple partner, and we design cases that work with each iPad model to provide smart protection that keeps devices up and running for as long as possible. Speak with a Brenthaven representative today to see how Brenthaven cases can enhance and protect your Apple deployment.