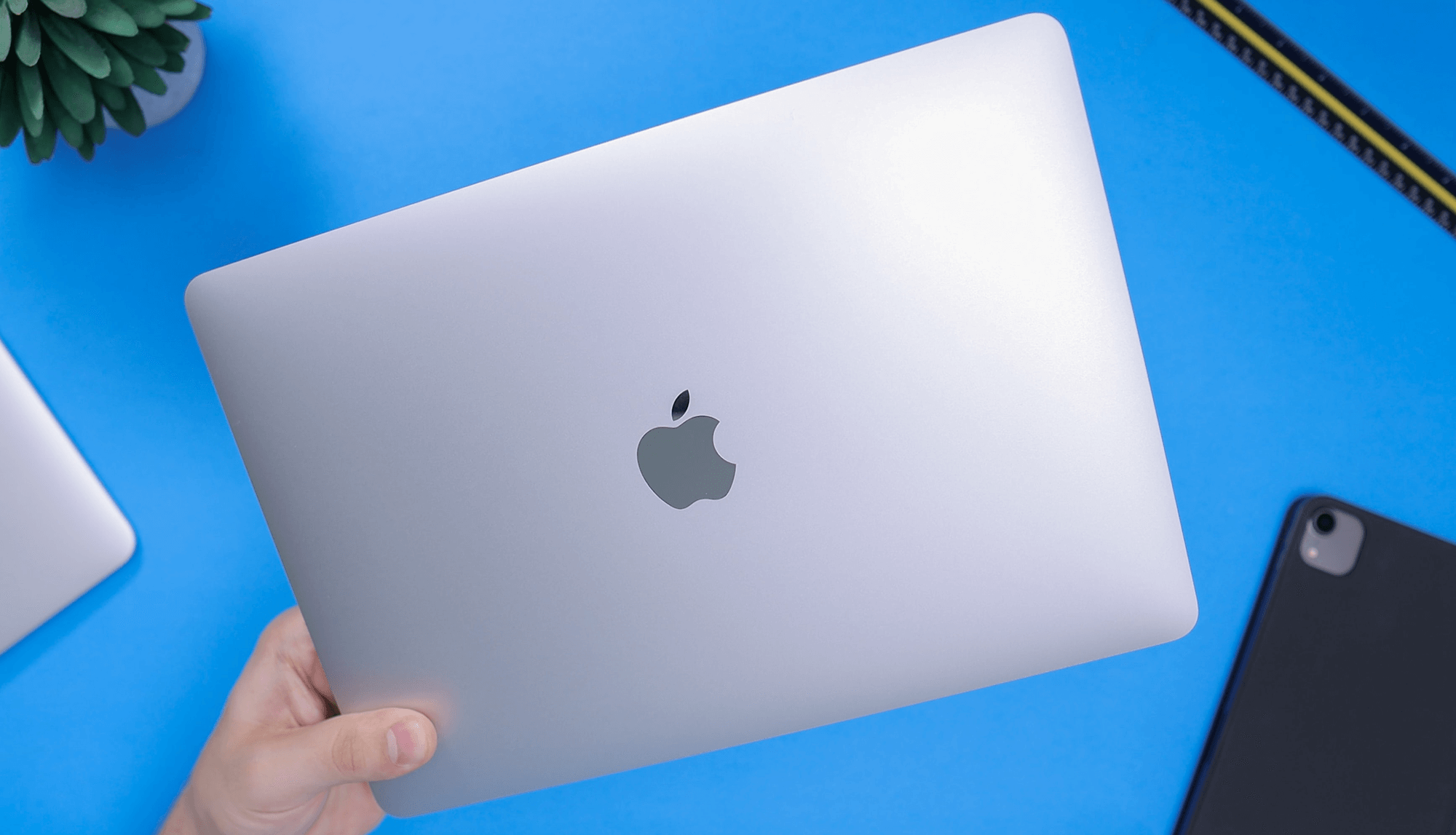 It's easy to count the upfront costs of a new fleet of MacBook Air laptops for your mobile workforce. But the costs of damage repair and replacement are harder to track and anticipate. Even if repairs are built into the budget, shipping expenses and the costs of lost time and productivity add up. That's where the Edge with BX2 for MacBook Air comes into play!
Did you know non-rugged, non-protective devices failed 3.6 times more than rugged, protective devices? Investing in a rugged protective case saves in more ways than one. When workers don't have to wait for their device to be repaired, they gain over an hour of productivity! That makes a big difference on revenue.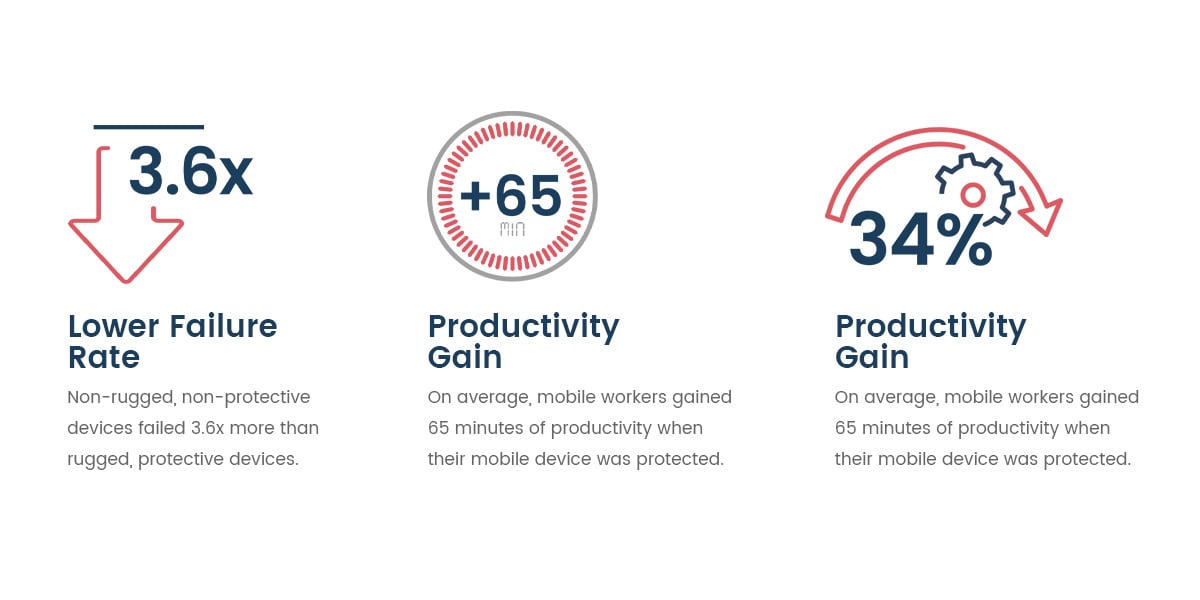 Like-new condition
Another often overlooked benefit of protecting workforce fleets is cashing in on the resale value. At the end of the device's life cycle, businesses can trade in their MacBook Air laptops, giving them a new life in the secondhand market. As one might assume, the better condition the devices are in, the more they are worth. Reselling older devices cuts down on the overall cost of ownership – and it's better for the environment, too.
Built Different 
One challenge of designing a case for the MacBook Air is making sure it's as protective as possible without detracting from the features that make the laptop so attractive. That's why the Edge with BX2 for MacBook Air is rugged yet lightweight, with best-in-class design that complements the sleek device.
This case is built for complete edge-to-edge protection featuring BX2 and Crumple Zone Corner technology. Superior proprietary drop protection helps the Edge with BX2 for MacBook Air withstand drops, with a secure front latch that protects both the screen and the keyboard in an accident. Additionally, the Edge with BX2 for MacBook Air features a hinge design that provides extra protection and ventilation for the device.
How does the Edge with BX2 for MacBook Air stand up to the competition? We compared it to three protection options from some of the top names in device cases.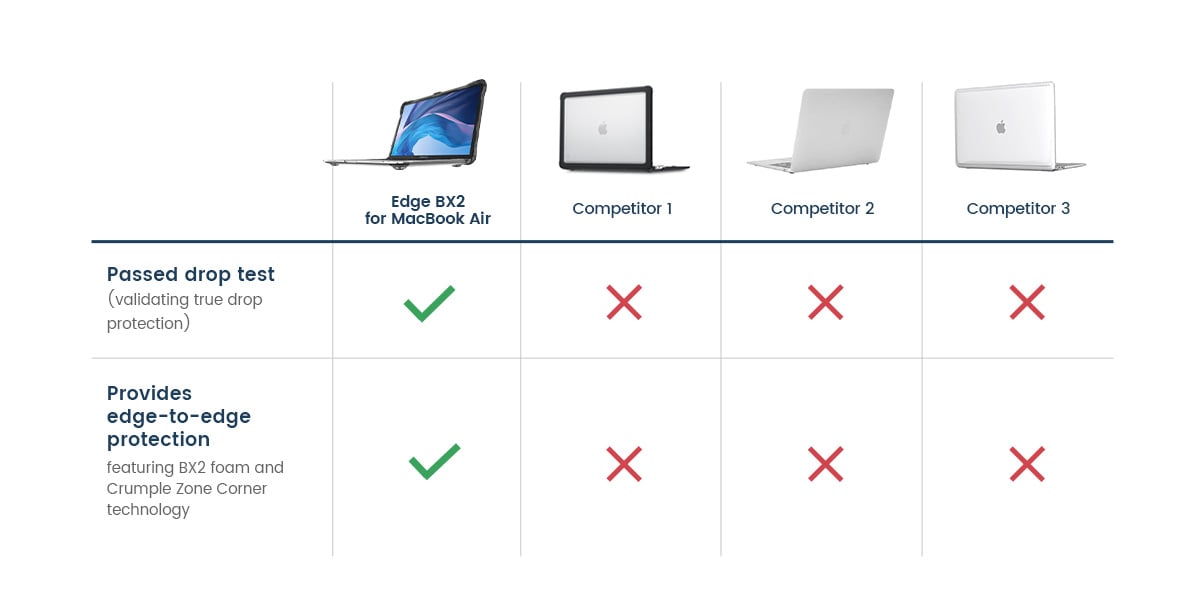 Form Meets Function
It's important for a great case to protect against drops and accidents – but it can't make using the computer harder or more frustrating. Brenthaven's careful design features work-friendly solutions that are perfect for busy workers. Prepping a deployment can be a formidable task. To that end, the two-part Edge with BX2 for MacBook Air installs in under 30 seconds.
Keeping track of devices is also an important job and it's made easier with the case's large, clear, asset tagging space. Asset tags can easily be scanned through the translucent windows, and these areas are also scratch-proof and UV yellowing resistant.
Finally, workers will love the case's low-profile rubberized feet. These unobtrusive feet encourage the optimal typing experience while keeping the MacBook Air from sliding on smooth surfaces.
Protection Pays Off
Protective cases might not be the first thing on your mind when researching and purchasing new MacBook Air devices for your workforce. It's tempting to avoid extra expenses while making a big purchase, but those costs find a way of catching up. Upfront costs are a known quantity, while the unknown costs of device damage – including hidden expenses like worker time and productivity – are impossible to know.
Invest in Longevity
The MacBook Air is more powerful and popular than ever thanks to its impressive specs and size. These factors make it an obvious choice for mobile workforces. And because Apple tends to support MacBook Air models with OS updates for quite a long time, these devices are built to last. That's why protecting them from damage is so vital. To get the maximum lifespan and usage from your investment, keep devices in great working condition with an ounce of prevention.
Would your MacBook Air deployment benefit from lightweight but durable protective cases? Contact a Brenthaven Specialist today to learn more about the Edge with BX2 for MacBook Air.