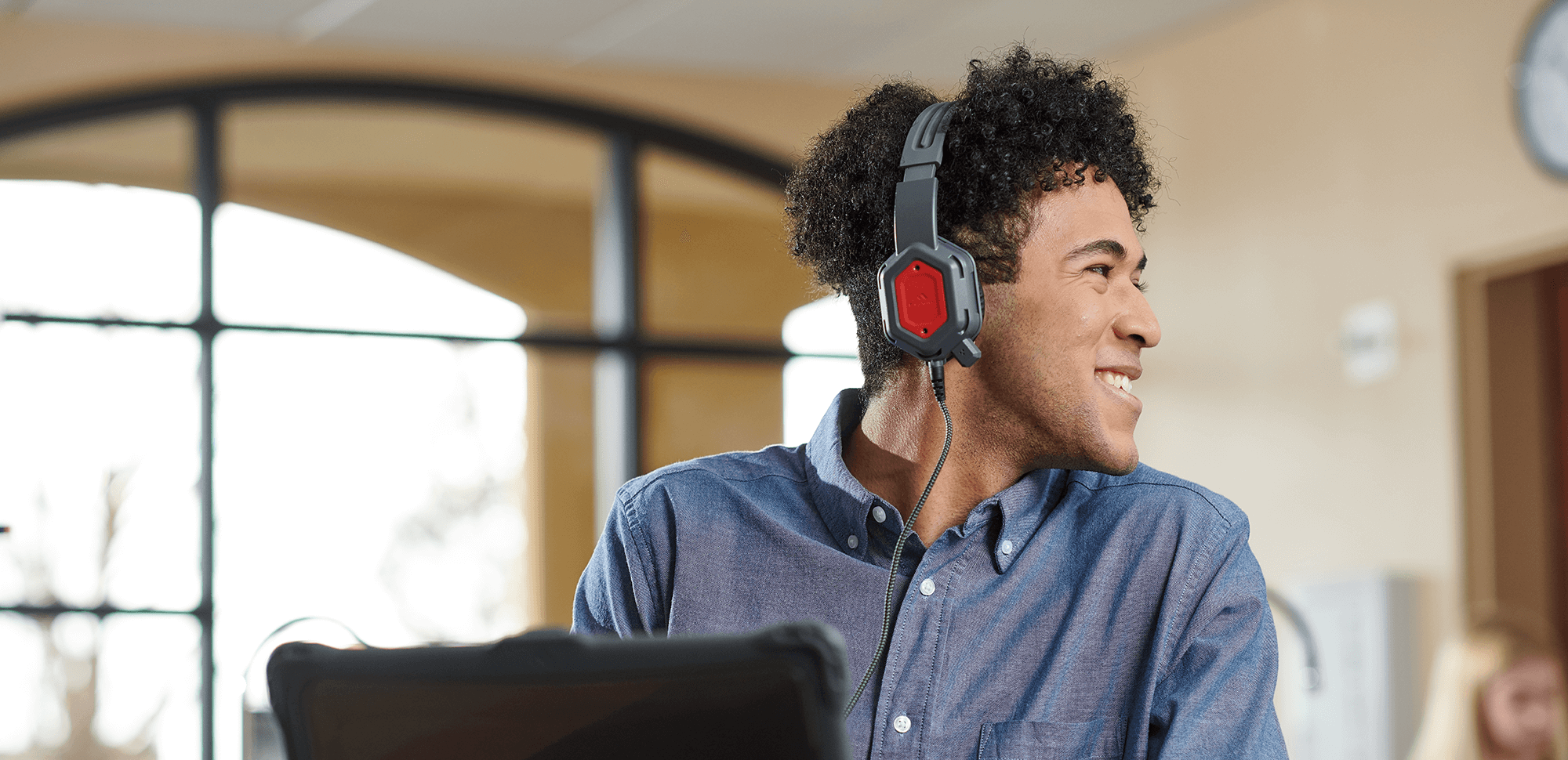 Our schools are filled with students who learn best through various methodologies. Some best collect knowledge through hands-on tasks, others from lecturing and note-taking, and for many of our 21st century learners, through video and audio, hand in hand. In education, we know that reaching all learners is of the utmost importance. Ensuring your students have access to quality audio delivery through providing classroom headphones and headsets can help open a student's education, assist in clarifying content, and extend learning beyond the classroom.
Students Learn Better with Quality Headphones and Headsets
Our schools have an increasingly diverse population of learners each year. With a wide range of rich diversity comes many distinct cultures, varying availability of resources, and numerous learning styles that need to be met. When schools provide classrooms with headphones and headsets for all students, no matter their background or learning style, they are provided the opportunity to open their world through intriguing audiobooks, podcasts, innovative educational videos, and more that can bring learning to the next level.
Classroom Audio Adds Another Way to Learn
Sometimes students need to hear concepts several times in several different ways for knowledge to click. We also have students who are Multilingual English Learners trying to navigate a world between languages. Additionally, we have learners with varying exceptionalities that need assistance accessing content. In all these situations, having access to auditory options for learning can only be a benefit. All students can both read and listen to texts to boost comprehension, particularly benefitting our MEL students, they can access and review videos or podcasts on topics that teachers have previously covered, and students with exceptionalities can be given access to learning that was previously out of reach.
Remote Learning Requires Reliable Headsets
When students can access audio in learning, particularly when headphones are provided by schools to ensure equitable access, they are able to extend their learning within and beyond the classroom. Research indicates that a third of students access videos to help them with homework and in middle school, 74% of 6-8th grade students seek out videos to help them with their schoolwork. When students are working on individual research and projects, headphones are key in preventing auditory chaos as they watch and listen to resources. When students go home and are continuing, or even better, expanding their learning, headphones help increase focus and engagement, no matter their surroundings.
Final Thoughts
on Audio Solutions for Students and Classrooms

The evidence is clear that students can only benefit from the addition of audio elements in their learning. When headphones are used, focus and engagement increase in auditory learning. At Brenthaven we pride ourselves in having ready-to-ship, durable, and K-12 optimized headphones and headsets to support student learning. Our Rugged Edge Headphones and Headsets have many features that give peace of mind including:
Two-year warranty

Premium sound

Rugged construction

Drop tested up to six feet

Industry leading standards
Brenthaven's technology experts are available to help you fit the right fit for your needs, ensuring all students have access to audio experiences to promote strong learning.
To learn more and request a sample or quote click here.